Skin Rejuvenation
Radio Frequency Skin Tightening Facial
Radio Frequency (RF) Skin Tightening treats sagging skin on the neck, décolleté and face along with wrinkles, which are common problems associated with ageing. This is mainly due to the decreasing amount of collagen production as skin loses its quality. RF systems are the most commonly used procedure to stimulate collagen production and strengthen the skin structure, thereby improving the overall appearance of the skin. This produces an anti-aging effect
RF is a non-invasive way of tightening loose or lax skin around, eyes, cheeks, mouth, jaw line, jowls and also the area under the chin/neck. This is a great way of reducing fine lines and wrinkles, enlarged pores and improving skin tone and texture as well as dull skin.
RF treatment uses electrical pulses so there are NO NEEDLES, NO PAIN AND NO DOWN TIME. It heats the dermis (the deepest skin layer) through hand pieces without damaging the epidermis (the top layers of the skin), to stimulate new collagen growth and provide an improvement in skin elasticity and appearance, to remodel and enhance dermal density with very minimal risks.
Try a 20 minute treatment for only £60.00
and see the result.
ULTRASOUND FACIAL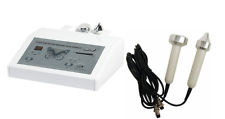 As we age, our skin rapidly grows old and faces the symptoms of dullness, dehydration, wrinkles, fine lines, uneven tone, sagging skin and loss of elasticity.
With the use of ultrasound these conditions can be helped to produce a more even skin tone, reduce both fine lines and the formation of early wrinkles
The following skin conditions can be easily treated with no down time – just an instant improvement.
Functions & Benefits


Remove fine lines
Improve skin tone
Improve nutrition absorption
Dissolve melanin
Calm sensitive skin
Skin whitening
Skin firming
Reduce puffy eye
Reduce black eye circles
Refine pores
Repair acne scars
Reduce pigmentation
Also available

Micro-demabrasion
Micro-currrent for facial toning
Anti-aging
Hydrating Facial
Acne
Skin Peeling
Facial Rejuvenation
Relaxation for facial tension
Relieving Headaches
Tired eyes